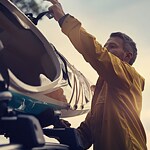 A roof rack can be a tremendous help to someone wishing to store luggage, a bike, a surfboard, or any other appropriate item. Roof racks look easy to use, and they are. However, any driver intending to take advantage of a roof rack needs to employ smart safety steps.
Without a doubt, it is vital to read the roof rack's instructions carefully. Making even the smallest mistake could cause a disaster. Don't assume anything. Read the instructions before assembling anything in Chicago.
There are other important steps to take when using a roof rack. Use the right torque setting to affix it properly. Lube the rack to make it easier to remove it when the time comes. And that brings up another point: always remove the rack you aren't using it.
Do you need any service, routine or otherwise, performed on your car? If so, bring it to Fox Lincoln of Chicago, and our team will handle the job